Carry On French
This group is meeting via ZOOM from now on
Although this group is full, there is another group like this that has vacancies
This group started in Jan 2016

Venue

Members' Homes

Meeting Time

Every Monday
9.45am - 11.15am

Group Co-ordinator

Hilary Brown

Contact Via:

Group Liaison (Kevin Stock)
023 9217 9298
Or email via our contacts page
This group formed in January 2016 as French Beginners.
---
Well, July, 2018 found us back again at our favourite eatery – Brasserie Blanc at Gunwharf Quays – only a few months since our last visit. Sadly one of our "gang" was missing but we kept her in mind particularly as we tucked into the chocolate offerings from the menu. As always, we had a very enjoyable time amongst our own very good company!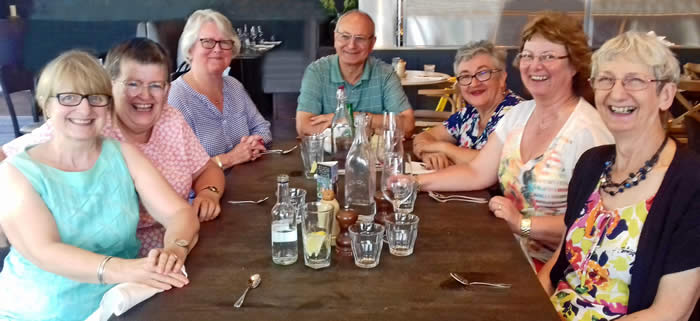 ---
And so our merry band of Carry-On-Frenchers met for a rather belated 2017 Christmas lunch at the end of February 2018. We chose to return to the Brasserie Blanc at Gunwharf Quays which we last frequented in 2016 – we even had the same table! The food was extremely tasty, reasonably priced, of course the company was excellent and a good time was had by all.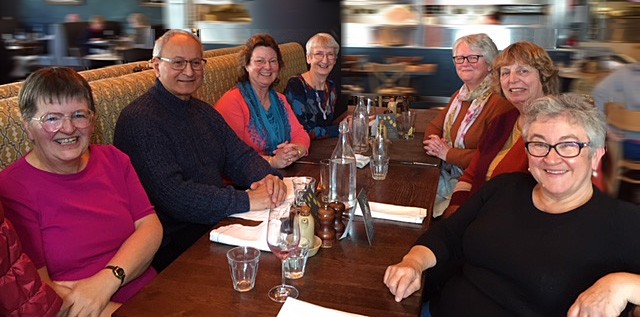 ---
Here we are at lunch at Cafe Rouge in July 2017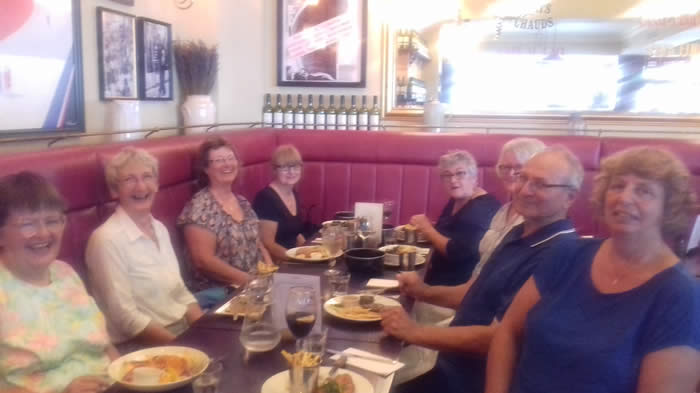 ---
Here is our merry little band enjoying a belated Christmas celebration and the delights of Brasserie Blanc at Gunwharf Quays. Sadly, despite Hilary's entreaties, Raymond did NOT make an appearance (sad face). On top of that, we were asked NOT to speak in French to the staff as we wouldn't be understood! Despite these drawbacks, we all thoroughly enjoyed ourselves and hope to repeat the experience at some point in the future.