Art History 1
This group is meeting via ZOOM until restrictions are lifted
Although this group is full, names can be added to the Waiting List, and when enough people show interest, another group can be started!
This group started in July 2012

Venue

Members' Homes

Meeting Time

Monthly Second Wednesday
10am-12 Noon

Group Co-ordinator

Val Vardon

Contact Via:

Group Liaison (Kevin Stock)
023 9217 9298
Or email via our contacts page
In 2016 we also studied the Arts and Crafts movement.
In 2017 we looked at Illustrators, Whistler, lesser-known Impressionists such as women and those from Britain, America and Australia and the Camden Town group, Roger Fry and Gwen and Augustus John. In 2018 we have studied Cezanne, Bomberg and Art Nouveau and will be starting to look at painters active during World War I.
We have visited Southampton Art Gallery Behind the Scenes in 2016, the Ashmolean in Oxford in 2017 and Pallant House, Chichester in 2018 with a trip and guided tour around the Watts Gallery planned for this month with an Educational grant.
In 2019 we finished our studies of artists involved in WWI and have looked at Kandinsky, Burra, Chagall, Klee and Ben Nicholson. We then took a quick look at modern art's "isms" ready to start Art Deco this month.
From November 2019 to February 2020 we studied the artists of the Bauhausand and are now looking at Surrealism.
Photo: Val, Jane and Sue at the Watts Gallery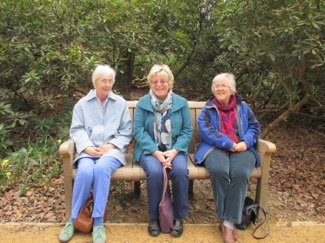 Click here for further details of our studies and the visits we have made.