Walking 5 Photos 2021
Chichester Marina and Dell Quay - 28th September 2021
A circular walk approximately 3.7 mile (6.1km) long; flat, easy terrain – made-up tarmac/ well defined footpaths, short section on a road; timed to take approx. 1.45 hrs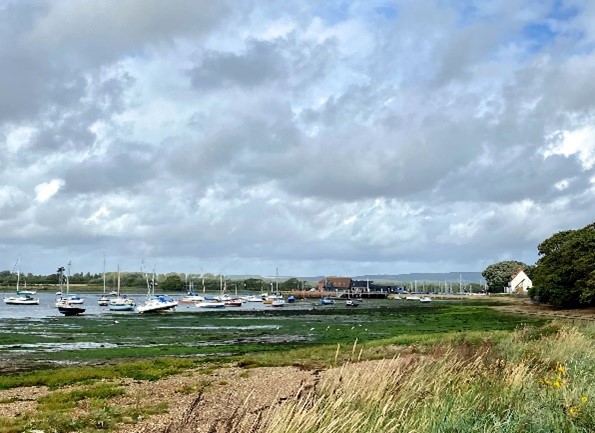 WALK TERRAINE: The walk is entirely flat. There is one small section of road walking, and you'll need to cross the marina lock via the footbridge over the lock gates. The walk is evenly split with about half on tarmac or stone lanes and half on field edge paths.
7 of us set out on the south east side of the marina, envious of the many pleasure boats moored on gently rocking pontoons and 'tinkling' rigging ropes. A short sharp shower wetted our coats, but not our enthusiasm and we had some shelter in short, wooded path of the "Salterns Way", then on to a well-maintained section of the bridle way. From then on, the weather was kind to us, with some sun and bracing blustery breeze along the shoreline Passing a farm, some mile or so from the Dell Quay road, we found free range eggs for sale – obviously put out in the hope of passing trade!!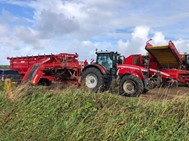 In an adjacent field we could see the first of several potato harvesters at work and some waiting to go into action. Their name suggests they were made in Russia - "Spudniks"! A source of amusement to us all. This tarmac farm road intersected with the Dell Quay road which we walked along for several hundred yards before turning off on to a footpath that led to and then followed the shoreline where it became a permissive footpath so you don't have to walk across horticultural crops. Some online reviews of this walk complain about the amount of barbed wire, but I think the farmer had put a lot of money in to providing a walking route while protecting his land/crops from inconsiderate walkers.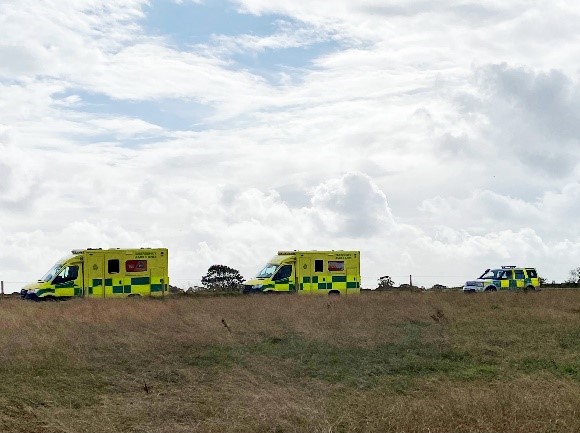 Unfortunately, one of the group had an accident, and Kath (group coordinator) used the "what3words" app to enable the emergency service to locate our position – they were with us in 15 minutes, even after crossing farm fields. Lesson learned – get "what3words" on your phone!!
https://what3words.com/products/what3words-app
. Later we learned that our group member was home, only very minor injuries and keen to take on future walks.
The remaining 5 of us continued along the path above the shoreline, through a wood and back to the marina. Having crossed the lock gates, we enjoyed a light lunch in the Boathouse Café, and then did the final ½ km back to our cars. A very enjoyable walk, albeit with some unexpected but well managed 'excitement'.
Group Co-ordinator: David Dunham
---
Wednesday 8th September – Soberton Circular
WALK LENGTH: Approx 5.1km (3.2 Miles)
TIME: About 2hrs (leisurely pace)
WALK TERRAINE: Open Countryside with couple of small inclines, Footpaths, Tracks and an old railway line; 5 styles and 7 kissing gates when following the Meon river rather than the Meon Valley Trail.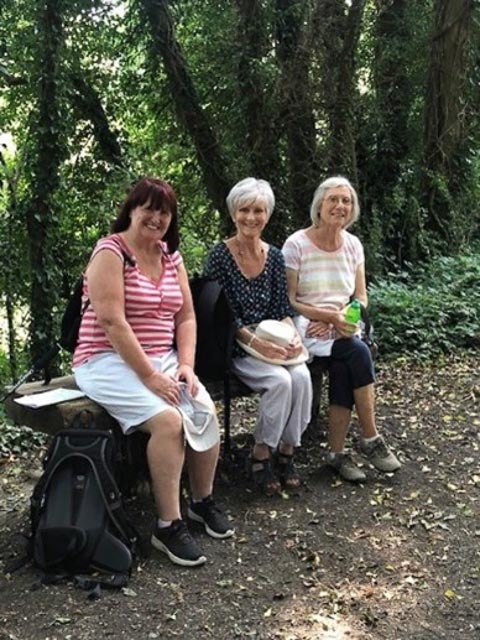 We met outside The White Lion pub in Soberton, and with just 4 of us turning-up we set off into the morning sunshine. Within a few minutes we had lovely views over farmland along the north side of the South Downs.

There was a cooling breeze and after slight incline it was good to stop and admire the scenery. Then on to a well made-up farm track for a short way before turning left between two arable fields to the northeast of Soberton. After a few turns and a style, we came to the bridleway that took us to the disused, or re-purposed, Meon Valley railway line; now part of the Meon Valley Trail.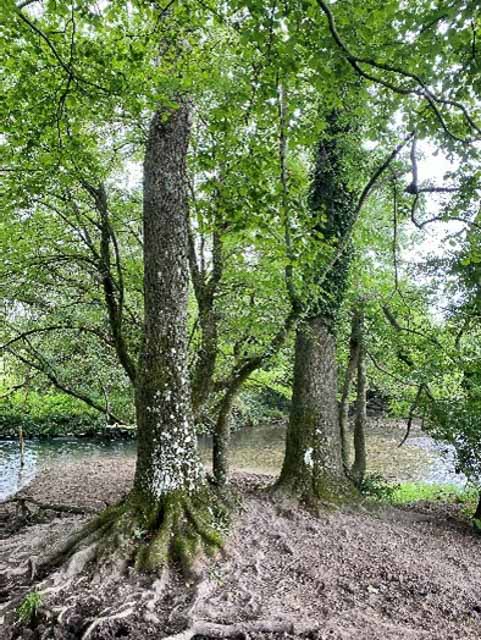 We could have continued on to the river Meon, but opted for the shady route of the railway cutting. This Trail is now popular with walkers, cyclists, horse riders and horse-drawn buggies; signage reminds all to share the route 'nicely'!! The Meon river 'babbles' its way along the Meon valley occasionally coming close to the railway. It must have been a beautiful train journey in its day! We were reminded (via an information board) that the river Meon is one of only about 200 chalk streams in the world, and about 85% of such rivers are located in England.
Shaded by the ash, beech and an occasional confer that now line the tops of the railway embankments we continued to the West Street Pumping Station, then past some lovely pebble clad and beamed cottages.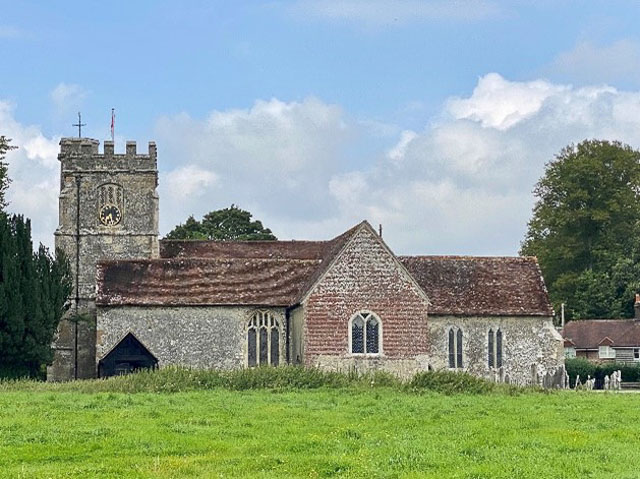 The final straight was a gentle incline across some fields to St. Peter's Church in Soberton, which, ironically, is next to the White Lion pub where we started.
Our walk was finished with excellent light refreshments from the pub. We all agreed that this was a delightful walk in lovely countryside and to those that were unable to make it, for whatever reason, we said……"Look what you missed"!!
---
24th August – Farlington Marshes
Tuesday 24th August 2021 – circular walk

I think most people know where Farlington Marshes is, but talking with some of the 11 people attending, some had not been there for quite some time, so a welcome reminder of what a beautiful area Farlington Marshes can be on a fine summer's day with the tide well on its way out.

The walk was flat and at about sea level, although some stretches of path were made up with pebbles or had dried up mud puddles; but all-in-all the terrain was not challenging on the day.

The route was about 4.5 Km. We met a U3A Birdwatchers group who seemed to be having a good time, and probably saw more birds than we did. However, we did encounter the following:- small flock of Little Egrets, Canada Geese, Common Terns, Teal, Mallards, Curlew, Redshank, Sandpipers, Grey Plovers, Lapwings, Moorhens, Swallows, Goldfinches and not to mention quite a few Starlings! It was good to see the "August List" of bird sightings for the marshes in the information hut…..it included an Osprey (on its way back to Africa on 15th Aug.) and also a Harbour Seal (one of our less flighty birds I think!!!).

We saw that blackberries are starting to ripen, with a promise of a good harvest in our local hedgerows in over the coming weeks. In summary, the weather was ideal for this walking venue as it can be bitterly cold and windy at other times of the year. Easy terrain, good for birdwatching and (on clear days) views west to Portsea Island, east to Hayling Island and north to Portsdown Hill.

There is good parking , although a low height barrier, so be aware!. While no on-site refreshment facility, there are some a couple of minutes away by car. We chose The Farmhouse pub in Burfields Road, just off the Eastern Road…plenty of 'Hungry Horse' meal-deals throughout the week and friendly service.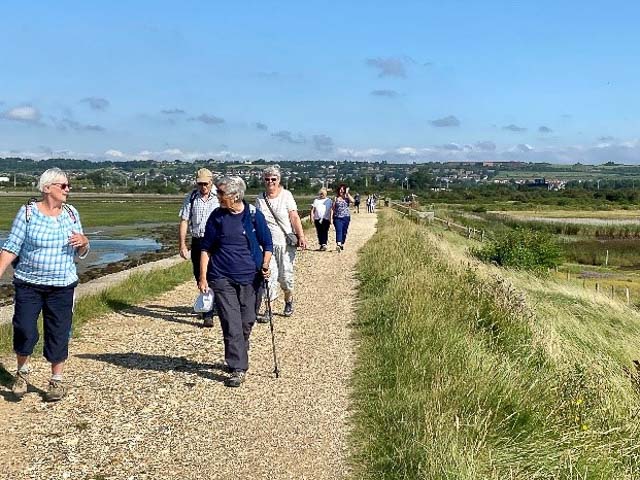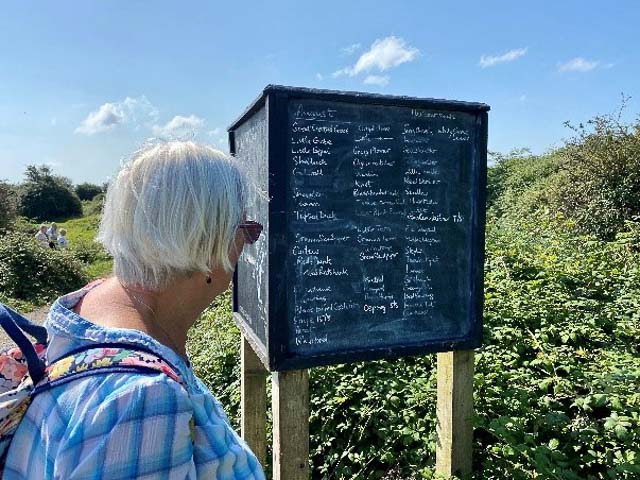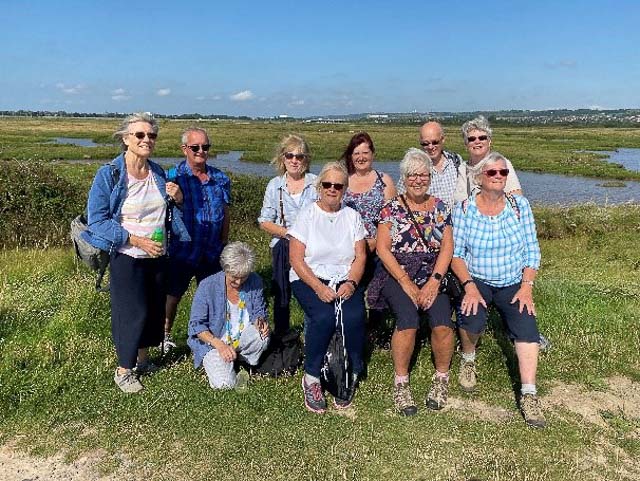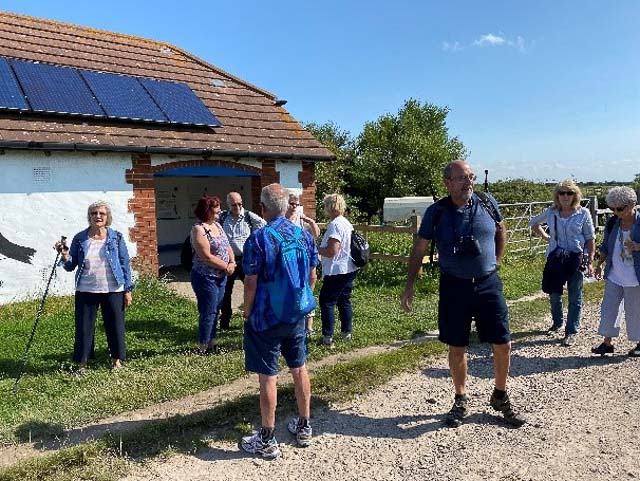 ---
11th August – Walderton
Inaugural walk on 11th August – Walderton - Four Seats circular walk

It is a 5.1km loop trail located near Stoughton, West Sussex, England is good for all skill levels and is ideal for people who like to sit and enjoy the expansive views of the South Downs. It took just over 2 hours.

All 15 of us set off from the Barley Mow pub in Walderton (PO18 9ED). Those who pre-ordered their lunch from pub were able to park in the pub carpark, which gets busy mid-week.

The weather was perfect for the walk; sunny, but not too hot and excellent visibility over the South Downs. Once on the well-trodden footpath in the wheat fields it was like we were heading across Tolkien's Middle Earth to the first of the Four Seats; stopping only for a group photo and a view back to Chichester harbour in the distance.

The walk had some inclines and declines across fields and in woodland, which challenged one or two of us, but we took it gently and made it through! There were a couple of muddy spots but, mainly dry as you would expect on chalk downland terrain. The woods were either beech or old coppiced hazel with a few oaks for good measure. The hedges we followed were mainly hawthorn, with some blackthorn, and in places over-grow by blackberry and wild clematis (Old Man's Beard). The third seat overlooks unmanaged chalk grassland slopes where we sampled the fragrance of wild basil and thyme.

The fourth seat is like picnic seats and table and is dedicated to a former farm manager; a tranquil spot to view the South Downs! A little further down the bridle path there is a huge barn conversion and several cottages. Passing Watergate House, which was used y the army during WWII, but sadly burned down. It was then rebuilt to its original Grecian style.

As group leaders, we hope everyone enjoyed this inaugural Walkers 5 – Strollers and we look forward to meeting our new friends as well as others registered for this group but unable to participate in this first walk. Our next walk is on Tuesday 24th August at Farlington Marshes. Walking 5 – Strollers meet on the 2nd Wednesday and 4th Tuesday of the month.

Best foot forward……….Kath Bonner-Dunham and Dave Dunham – Group leaders