Jazz & Blues Appreciation
Although this group is full, names can be added to the Waiting List, and when enough people show interest, another group can be started!
This group started in July 2013

Venue

Members' Homes

Meeting Time

Monthly Third Thursday
2pm - 4pm

Group Co-ordinator

Brian Goose

Contact Via:

Group Liaison (Kevin Stock)
023 9217 9298
Or email via our contacts page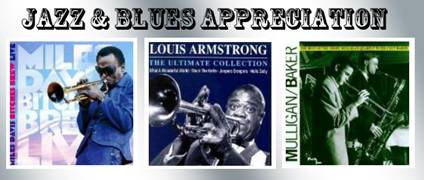 We enjoy listening to all types of recorded jazz and discussing past and present live jazz performers we have heard.
Our first meetings involved discussions around our various enthusiasms for different styles of jazz, from traditional to modern. We also explored how we could actually listen to music from vinyl, CDs and digital sources. At present we have settled for playing jazz from CDs and Apple iTunes. Though a recent experiment in music streaming from the Internet using Spotify worked well and we hope pursue this method further.
---
October 2017
 We jazzed around the letter 'O' this month and despite technical problems between the laptop and TV, meaning we had no YouTube videos. We did listen to tracks including those by Kid Ory, Ottilie Patterson, Oliver Nelson, Otis Spann. Tunes included 'Oh, Didn't He Ramble', 'Out of Nowhere' and 'Obsession'. 
Click here
 to see the rest.
September 2017 The jazz academy returned to the record listening booth this month. Our theme of the letter 'N' brought artists such as Jimmy Noone, Nat King Cole, Norah Jones and Robert Nighthawk to our ears. Tunes such as Night Train, Nuages, Hoe Down and Night In Tunisia were featured. We also watched music videos of Dave Newton on piano and vintage footage of Nat King Cole. To view a selection of the tracks we appreciated click here.
July 2017 Coming up to our summer break, we marched on to the letter L in the alphabet in our quest for the perfect jazz sound. After an initial hitch when were unable to download music tracks from the Cloud, we were soon back online listening to Louis Armstrong, Peggy Lee, Lonnie Donegan and 'Last Smile Blues' by Humphrey Lyttelton. We also fitted in three videos, featuring Louis Jordan and then two contrasting interpretations of the tune 'Libertango' by Italian and English saxophone ensembles. Click here to view all the tracks we played.
June 2017 We continued our march through the jazz alphabet, reaching the letter 'K' this month. Stan Kenton, Gene Krupa and Kenny Ball were on the roll call and tunes such as 'Ko Ko' and K.C. Blues were included. To view a selection of tracks we enjoyed. click here.
May 2017 This month we took the letter 'H' as a starting point to select jazz tracks to enjoy. Earl Hines and Coleman Hawkins, along with tunes such as 'High Society' and 'How Long Blues' made appearances on our virtual jukebox. To view a selection of the tracks played click here.click here.
March 2017 The letter of the month was 'C'. Tunes such as 'Cheek to Cheek', 'Cry Me a River' and 'Creole Love Call' were on the audio roster. Along with artists including Coleman Hawkins, Cannonball Adderley and Ray Charles. To view the generic album covers for this meeting click here.
February 2017 The challenge this month was for each group member to choose a favourite jazz instrument and link tracks to their selection. Obviously, we had saxes; trumpets, trombones etc. but with the vibraphone also making an appearance on the band stand and The Singapore String Quartet playing Dave Brubeck's 'Take Five', an afternoon of rich musical textures was enjoyed. Click here to view all the tracks & videos we listened to and viewed.
January 2017 Most of the crew was onboard to sail into the New Year with a varied mixture of long and short tracks, using the letter E as the theme. Included were items from Ella, Louis and Acker, plus The Esbjorn Svensson Trio – new music to many of us. The Rolling Stones with Ry Cooder even got a look in. To view all the tracks played click here.
December 2016 Our meeting included Christmas tracks such as, 'Zat You, Santa Claus'; 'I'll Be Home For Christmas'; 'A Holly Jolly Christmas' and of course 'Jingle Bell Rock'. But with a concurrent theme of 'anything goes' we also enjoyed listening to tracks that included: 'Toccata' by Sky; 'Steamboat Bill' with Ottillie Paterson and 'Special Delivery Stomp' from Artie Shaw. The very loose theme this month even allowed us to watch a video clip of The Archers programme being recorded – was that Eddie Grundy on baritone sax? Thanks to John for hosting so magnificently through 2016 and for Sheila's marvellous refreshments.
Click here to view all the tracks played.

November 2016 We tackled the letter 'D' this month as the template for the tracks we listened to. Choices included The Duke and The Delta Rhythm Boys, along with tracks such as 'Drop Me Off In Harlem', 'Dolphin Dance' and 'Diga Diga Doo'. We also viewed a short YouTube documentary on the USA pianist, vocalist and songwriter, Mose Allison who recently died aged 89. His obituary was headed "He spiced country blues with the sophistication of modern jazz". To view all the tracks we listened to click here.
October 2016 The group had quite a challenge this month to find tunes which included 'body parts' but the usual careful research by members gave us tracks to listen to including the usual suspects: eyes, hearts, fingers, feet etc. But guest appearances by a slipped disc and a bum (of course in the USA sense of a 'hobo') added to a glittering role call of musicians, including Eddie Condon, Ella & Louis and Fats Waller. Plus, the bonus track, the Beatles (in their Hamburg days) playing Fats 'You're Feet's to Big'. To view all the tracks we listened to click here.
September 2016 The group resumed after a summer break with the theme of flowers. Honeysuckle Rose popped up several times, with interpretations including those from Fats Waller and The Hot Sardines. We viewed several tracks on YouTube, including an interview with jazz bassist Herbie Flowers about his life as a session musician on top pop hits of the 1960s. To view all the tracks we listened to click here.
July 2016 As the group moved towards a summer break, we had a great session listening to hand picked tunes on the theme of TIME. To view the tracks played click here.
June 2016 This month we took the theme of 'Dance' and managed several waltzes, the odd samba & mambo, then some boogie woogie. Also, several charlstons and even a black bottom stomp made it to the dance floor. With a strong internet connection on the day, we also viewed several YouTube jazz videos. To view all the tracks played click here.
May 2016 The internet connection was much better this month and we were able to easily listen to a range of 'A' related tracks. Tracks downloaded from the cloud, included musicians such as - Acker Bilk, Henry 'Red' Allen, Art Tatum and Artie Shaw - to name but a few. To view all the tracks played - click here.
April 2016 We moved to the letter J this month and listened to tracks that included Jazz Me Blues, Jack the Bear and Jeepers Creepers. The Internet connection was poor on the day of our meeting, precluding the viewing of YouTube jazz videos but steam driven CDs ably stepped into the breach. Click here for the full list of tracks played.
March 2016 It has been the intention of the group for some time to view jazz performances on YouTube, as well as listening to CDs and tracks streamed from the internet. But previous experiments to connect a laptop to a television had failed due to incompatible leads. But at this meeting we eventually met with success when with the right leads and the laptop set to a 'mirrored' display, we viewed Herbie Hancock on the big screen. He was talking about and playing his composition 'Watermelon Man' https://www.youtube.com/watch?v=RzPZvKSdN7g
We also listened to some jazz & blues tracks, which are listed here.
February 2016 Members found identifying musicians (or tunes) involving the letter 'B' a fairly straightforward task, perhaps because a few months earlier we had already visited the second letter of the alphabet! But we enjoyed listening to artists including Chet Baker and Bix Beiderbecke. Whilst tracks played, included 'Bechet Creole Blues' and 'Blue for Waterloo'. Click here for the full list of tracks played.
January 2016 A busy meeting this month with 21 tracks played and appreciated on the theme of the letter 'M'. To view the musicians featured and the tracks played (plus a bonus track from The Okalands School Big Band) click here.
November 2015 The letter B came into the spotlight this month. We heard and appreciated tracks from Bill Taylor to Brook Benton and tunes including Bees and Blues in the titles. Click here to view all the tracks played.
October 2015 Focusing this month on the letter G of our jazz alphabet, we garnered a cornucopia of aural delights – including tracks from Hoagy Carmichael and The Modern Jazz Quartet. The music identification app Shazam, with a database of 15 billion songs, continues to make the accurate cataloguing of our listening (click here to view) more easily achieved.
July 2015 Our alphabetical assignment this month was to find tunes starting with the letter 'T'. What a swinging set resulted, with tunes from 'Tea for Two' to 'Tuxedo Junction' and 'Three to Get Ready' to 'Things ain't What they Used to Be'. We continued to use the app Shazam to find background information on the tracks played.Click here to view all the tracks played.
May 2015 This month we listened to and discussed Jazz & Blues tracks on the theme of 'Drinks - part 2'. Refreshments included champagne, black coffee, tequila and even a bloody Mary. Artists included Eric Bibb, Chris Barber, Bill Harris and Michel Petrucciani. A new group member introduced this French pianist, unfamiliar to many of us, who is influenced by Bill Evans and Keith Jarrett. We also ventured into watching jazz recordings on the TV screen, this time The Hot Sardines with ' Goin' Crazy with the Blues' on Later with Jools Holland. Click here to view all the tracks played
April 2015 This month we took the theme of 'Drink'. Tracks played included Ted Heath with Tequila; Anita O'Day with Blue Champagne and Buddy Rich with Bloody Mary, to name but a few.
A new group member amazed us with sight of a rare Humphrey Lyttelton 78rpm picture disc from the last century. It had made an appearance at the Collectables Group but found it's true home with us. To view both sides of the Humph picture disc and all the tracks played click here.
March 2015 Our chosen theme of last month, 'Colours', generated sufficient tracks to fill a second meeting. So this month, skies were blue; the mood was indigo and Dolphin Street was green, to mention a few of the tracks played. To view them all click here.
February 2015 Often a dull month at the start of the year but we had a bright afternoon sharing our jazz choices. The chosen theme was 'Colours' and a rainbow of tracks unfolded. Artists included Ry Cooder, Peggy Lee and Dave Brubeck. All the tunes played and the album covers can be can be viewed here.
January 2015. A new year and a new theme. The challenge this month was to find jazz tacks around the theme of 'Numbers'. Enjoyable listening included Humph and Kenny Ball on this side of the pond and Dave Brubeck and Fats Waller to the West. All the tracks played and album covers can be viewed here.
December 2014. We had a few technical problems at the start of the meeting with the Bluetooth wireless speakers not picking up the jazz from our laptops and tablet computer. But our persistence paid off and we were then able to play the remaining tracks on the 'places' theme and others bands and vocalists we wished to share. The tracks played (and album covers) can be viewed here.
November 2014. The PLACES theme chosen last month proved to be such a mine of intriguing tunes, we chose to devote a second meeting to our audio travels. This time we visited Africa with Johnny Dankworth and Paris with Dizzie Gillespie, amongst many other locations. The Tracks played can be view here.
October 2014. This month we travelled around the world, with tracks played on a PLACES theme. Tunes included 'Kalamazoo' and 'Coney Island'. Also, performers, such as Dinah Washington and Manhattan Transfer, were stopping places on our jazz tour. The tracks played can be viewed here.
September 2014. Back to the 'listening booth' after a summer break we put on our thinking caps to explore the theme of women singers. The female voice is a sometimes contentious area of recorded jazz but with tracks from Ella to Ottilie Patterson and Nina Simone to Diana Krall we found much to enjoy. All the tracks played can be viewed here.
June 2014. Our meeting this month was a tale of leading soloists on: Trumpet (Harry James); Clarinet (including Sidney Bechet); Saxophone (including Lester Young). The track listing is here.

April 2014. Trains, Boats, Planes (and some Cars) Our theme this month was 'Transport'. Research brought forth many train tracks, quite a few on cars but planes and boats brought up the rear. We enjoyed hearing tracks from John Coltrane, The MJQ, The Temperance Seven, Manhattan Transfer and Count Basie – to name but a few. The full listing is here.
March 2014.  This month we took the theme of  WEATHER. Tracks played included those by George Shearing, Lester Young, Nancy Wilson and (straying into pop territory) Santana.  Weather Report and Monty Sunshine also made an appearance! All the tracks played are here
February 2014 Meeting. Following our current pattern of playing tracks on a particular theme, this month the chosen theme was 'Women's Names'. Initial research brought up more pop tracks than jazz but our final choice of 11 tracks, from Muggsy Spanier to Thelonious Monk, can be viewed here.
At our January 2014 meeting our track list took the themes of 'food' and 'animals'. Click here to see them.